Some of the links in this article are "affiliate links", a link with a special tracking code. This means if you click on an affiliate link and purchase the item, we will receive an affiliate commission. The price of the item is the same whether it is an affiliate link or not. Regardless, we only recommend products or services we believe will add value to our readers. By using the affiliate links, you are helping support our Website, and we genuinely appreciate your support.
Humanity is in great danger!
The crazy Professor Creepstrange worked for years on a way to teleport people across several miles from one place to another and even though the Professor was aware of the dangers when carrying out such an experiment, he kept on working on this project.
When the experiment was launched, disaster happened! Rather than teleport people, he opened a portal that leads demons and monsters, with the aim to invade the world!
But hope still exists for all because the professor created a self-destruction code on the teleporter. To prevent his experiment to be sabotaged by skeptics, he hid this code in a puzzle.
This is where your gaming starts!
The world needs your razor-sharp mind, to solve all the puzzles to get to the code and to save the world from destruction.
Are you ready for this task? Fame, glory, and rewards are waiting for you!
Click the button for more information -->
More Information
Have you solved the riddles of the different difficulty levels? Then get your reward now. Just click on the solved level link and enter the code
Click here to enter the code for the Newbie Monster Hunter Level
Click here to enter the code for the Trained Monster Hunter Level
Click here to enter the code for the Master Monster Hunter Level
Click here to enter the code for the Hero Monster Hunter Level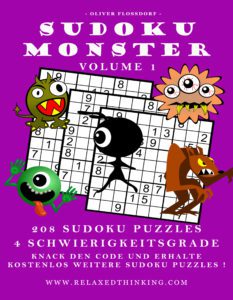 Die Menschheit ist in großer Gefahr!
Der irre Professor Creepstrange arbeitete seit Jahren an einer Möglichkeit, Menschen über mehrere Meilen von einem Ort zu einem anderen Ort zu teleportieren. Und ob wohl sich der Professor der Gefahren bewusst war, welches ein solches Experiment birgt, arbeitete er wie versessen an diesem Projekt.
Als das Experiment anlief kam es dann zur Katastrophe! Anstatt Menschen zu teleportieren, öffnete sich ein Portal aus einer Welt voller Dämonen und Monster, welche nun über die Welt herfallen!
Aber es gibt noch Hoffnung für uns alle! Der Professor war zwar irre, aber nicht dumm. Es gibt einen Code welcher die Selbstzerstörung des Teleporter initiiert.  Damit aber sein Experiment im Vorfeld nicht von den Skeptikern sabotiert wird, hat er den Code in Rätzel versteckt.
Und nun kommst du ins Spiel!
Die Welt benötigt deinen messerscharfen Verstand, um all die Rätzel zu lösen, um an den Code zu kommen und die Welt vor der Zerstörung zu retten.
Bist du bereit für diese Aufgabe? Es warten Ruhm, Ehre und Belohnungen auf dich!
Für mehr Informationen einfach auf den Button klicken -->
Mehr Informationen
Hast Du die Rätsel der verschiedenen Schwierigkeitsstufen gelöst? Dann hol dir jetzt deine Belohnung.
Klicke hier, um dein Code für den Neuer Monsterjäger Level einzugeben
Klicke hier, um dein Code für den  Trainierter Monsterjäger Level einzugeben
K
licke hier, um dein Code für den  Meister Monsterjäger Level einzugeben
Klicke hier, um dein Code für den  Heldenhafter Monsterjäger Level einzugeben